PERSONAL PROFILE – JOSIE DILLON LOWERSON
2019
Exhibition – "Paper & Sticks"at Old Post Office Gallery, Atherton. In collaboration with Printmaker Bek Honeyman.
Exhibition – "Small"at Fortyfivedownstairs, Flinders Lane, Melbourne
2018
Participation in "Stories & Portraits" project by Photographer Lou Rios
2017
Exhibition – 'Contemporary 17″ at Gallery Etienne De Causans, St. Germaine, Paris
Exhibition – "Capri-Isle of Arte"- Villa de Floridiana, Isle of Capri, Italy
2016
Exhibition "Pazzi per Napoli" at Castel dell'Ovo, Sala Delle Terrazze, Naples Italy
Exhibition "Eight by Ten" at KickArts Contemporary Art Gallery, Cairns
Rotterdam International Art Fair, Netherlands
2015
Art fair – Paris 015 art salon at Carrousel Du Louvre, Paris, France
Exhibition- "Bienal De Arte at Museum of Modern Art (MEAM) in Barcelona, Spain. Opened by Jose Van Roy Dali Heir of Salvador Dali.
Exhibition – "Florence Art-" International collective at Guicciardini Bongianna Palazzo, Florence, Italy
Exhibition – 2nd International Biennale at Palazzo Sant Elia, Palermo, Sicily
2014
Art residency at Galleria Monteoliveto, Naples & Pollena Trocchea, Italy
Publication of artworks in "The best 2014 Modern & Contemporary artists"
Solo Exhibition – "The Great Art Hunt" – Interactive childrens exhibition at Cairns Regional Gallery
2013
Exhibition – "Portals of Perception". at Agora Gallery, New York, U.S.A.
Organiser of "Art Aid" project to make & supply art packs for underprivileged school children in East Timor
State finalist for NEITA Excellence in teaching awards.
Publication of article on the Art scene in North QLD for Artbeat (ArtiSpectrum New York magazine Vol, 29)
2012
Exhibition- "Birds of a feather" -Cairns regional Gallery. Sponsored by the Chinese Assoc.
2011
Travel- "Walk to Art" – New York. U.S.A.
Award- Qld. Government International Year of the woman 100th anniversary- "Ordinary Women Extraordinary Lives" Certificate of recognition for contribution to Arts & education.
Exhibition – "Language of Art" – Carrington jewellery & art gallery – Noosa.
2010
Solo sculpture Exhibition "Attire" Cairns Regional Gallery
2005
Exhibition – "Women in action" – Foyer Gallery, Atherton
2002
Exhibition – Atrium Gallery – Paradise Palms, Palm Cove
2001
Solo Sculpture Exhibition – "Extracted" – Cairns Regional Gallery
1998
Exhibition – "Works on paper" – Bendigo Art Gallery. Award winner for photography
1997
Exhibition – "Sandhurst Trustees women sculptors" – Capitol Theatre, Bendigo. Finalist in Sculptural works selected by Inge King.
Exhibition – Finalist in "Works on paper" at Bendigo Art Gallery
Organisation & construction of Sculptural "Peace Garden" – Bendigo (Victorian Govt. Violence to Harmony Initiative)
1996
Exhibition – "Second Agenda" – Convent Gallery, Daylesford
Worked on Artist in residence program (C.C.B Bendigo)
1994
Exhibition – "Agenda" Torii Gallery, Strathfieldsaye
Mural – Organised community project – Rosiland Park wall of Bendigo Art Gallery
1982
Continuing Education Course – life drawing
1980
Oxy & Arc welding course – C.I.G, Preston, Melbourne
1978
Exhibition – "Wood thoughts" – Gryphon Gallery, Carlton, Melbourne
Two artworks purchased by the Potter Foundation for the permanent collection at Melbourne University
Demonstrated Steam bending techniques at the National Gallery of Victoria,Melbourne
1976
Participated in a volunteer program to bring art to remote areas
1975
University of Melbourne – (B.ed Degree in Visual Arts & Crafts) – Four Year degree course
Majors in painting, Drawing, Fine Art history and wood
1956
Born Wycheproof, Victoria, Australia and raised on a wheat property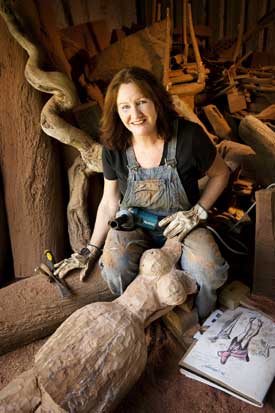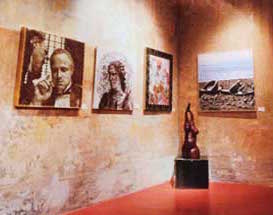 European Museum of Modern Art, Barcelona, Spain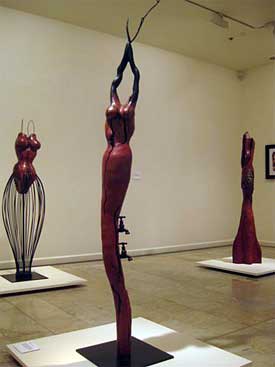 Cairns Regional Art Gallery